RigExpert WTI-1
 Wireless Transceiver Interface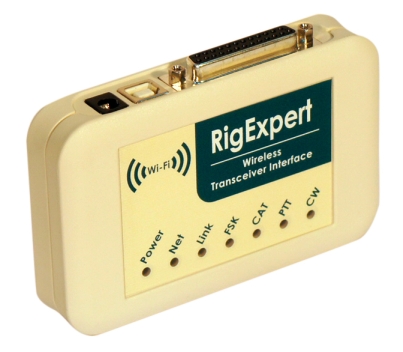 Connect your transceiver to the Internet via a Wi-Fi network. Use your laptop to operate phone, CW or digital modes from anywhere in the world!
The following resources are available on-line:
To connect the WTI-1 to your transceiver, you will need a special cable. Fortunately, pre-built cables for many transceivers are available. Moreover, you may construct a cable yourself, using the diagrams published on our website.
Please make sure to update your WTI-1 to the latest firmware and use the latest version of the ShackLink software on your PC.
A number of user's guides provide step-by-step instructions of how to set up and operate your WTI-1 device. The guides are available in the PDF format at the Downloads section of our website:
The Quick start guide describes in a short form how to quickly set up your WTI-1 device to start operating.
The User's manual contains more detailed instructions and examples of the use.
The ShackLink software manual describes the ShackLink program deeply, so operating becomes easy even for an inexperienced user.
The Software setup examples will help you quickly set up your favorite software to operate digital modes via the WTI-1. Many other programs are supported, although not included in this manual.
Remote operation becomes easy with the Operating via the Internet guide.
Приобрести данный товар вы можете в нашем интернет-магазине  http://eopt.com.ua/products/rigexpert-wti-1-wireless-transceiver-interface